Blue Moon is a Crazy map created by disney12. It has 9 Buttons.
Design
Blue Moon takes place on a moon. The beginning is an open area, you run to a huge laboratory in the middle of the map. The map contains some tricky jumps with the extremely fast Lava. To beat this map, focus on nothing but the map, take shortcuts and do not make any mistakes.
Trivia
Blue Moon is the first Crazy map added to Flood Escape 2.
The map's old music in FE2 Map Test was Another Medium from Undertale.
Before Blue Moon had its own OST, it's placeholder was the original soundtrack for Beneath the Ruins.
Blue Moon went through some buffing and nerfing before being added to Flood Escape 2.
Blue Moon had a nerf at the start of June, which made a lot of people dissatisfied. Around 2 weeks later, it got buffed and then buffed again to the current version.
In its earlier stages in FE2 Map Test, Blue Moon's BGM was Space Junk Galaxy from Super Mario Galaxy.
There is an Easter Egg in the 3rd room which is a picture of Giorno Giovanna with a frog on his chest from the 5th part of the manga series JoJo's Bizarre Adventure.
While Blue Moon has its own OST, disney12 has decided to change the music to CaptainSparklez - Revenge, a Minecraft song and meme.
Blue Moon is one of the maps you can play in both Flood Escape 2 and FE2 Map Test. The other maps are Snowy Peaks, Northern Workshop, and Dark Sci-Facility.
Blue Moon, Jungle Inferno and Scream Fortress are all related to Team Fortress 2.
Blue Moon is known as the current hardest map in the game, surpassing Dark Sci-Facility's long run as the holder of that title.
Walkthrough, OST, and Guide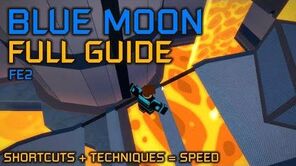 Community content is available under
CC-BY-SA
unless otherwise noted.