Blue Moon
is a
Crazy map
created by disney12. It has 8 standard
buttons
, 1 group button, and is currently the hardest map in
Flood Escape 2
, surpassing
Dark Sci-Facility
's long run as the holder of that title.
Difficulty
The map was nerfed and buffed several times throughout the map's life on FE2 Map Test. The first button was formerly a regular button before being changed to a group button on an update, increasing its difficulty on rounds that contain 5 or more players. Its first floodgate was buffed by a few seconds, and begins to close when the music intensifies. The road that leads to the first indoor area was extended, along with modified gameplay. All of the indoor rooms were modified and is significantly harder, thanks to a map update on early July before it was added. The lava is now slightly faster than any of the versions that came before it and if you just reached the last pathway when the lava is right underneath you, it guarantees no survival as the lava is slightly faster.
Design
Blue Moon takes place on a moon. The beginning is an open area, you run to a huge laboratory in the middle of the map. The map contains some tricky jumps with extremely fast lava.
Trivia
Blue Moon is the first and currently the only Crazy map added to Flood Escape 2.
The map's former music in FE2 Map Test was Another Medium from Undertale, and its first BGM was Space Junk Galaxy from Super Mario Galaxy.
Before Blue Moon had its own OST, its placeholder was the original soundtrack for Beneath the Ruins.
Blue Moon had a nerf at the start of June, dissatisfying a lot of people. Around 2 weeks later, it got buffed twice until settling on the current version.
There is an Easter Egg in the 3rd room which is a picture of Giorno Giovanna with a frog on his chest from the 5th part of the manga series JoJo's Bizarre Adventure.
While Blue Moon has its own OST, disney12 decided to change the music of the FE2 Map Test version to CaptainSparklez - Revenge, a Minecraft song and meme, in response to the alleged BoonMoon references on its Crazyblox Games Forum post temporarily. This was later changed back to Blue Moon's OST.
Blue Moon is one of the maps you can play in both Flood Escape 2 and FE2 Map Test. The other maps are Snowy Peaks (although unplayable on Map Test), Northern Workshop, and Dark Sci-Facility.
Blue Moon, Jungle Inferno and Scream Fortress are all related to Team Fortress 2.
Walkthrough, OST, and Guide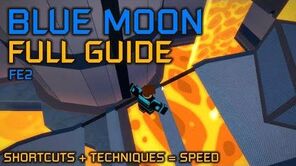 Community content is available under
CC-BY-SA
unless otherwise noted.