Decrepit Seas is a Normal Map made by rareheaddress. It has 5 Buttons and 1 Group Button.
Design
Decrepit Seas is a map that, as its name suggests, takes place under or at the sea. There are two large rooms with many buttons in each. There are lots of sea plants sticking out, and many anchors and other under-the-sea looking models. There are also many rusted ladders, boxes, and other ocean-like decorations. The ground players walk on appears to be sandy.
Trivia
Currently, some players don't actually move right after they teleport to the map. They just stay at the tunnel to survive without finishing the course. Just because the water (named _water1) can't reach the tip of the tunnel, creating a gap for players to survive.
The picture of a player in the wrecked ship was a muscular WoodReviewer. This photo (image) also appears behind the safe zone (shed) of the Insane map Gloomy Manor.
Before an update to this map, the last button (which is underwater) never existed. It was added to be the group button in this map.
There is also an air gap in the second room.
There's a Side B song that didn't make it in-game.
The map was originally intended to be an easy map, but was changed to normal difficulty because of the swimming section.[1]
References
Walkthrough and OST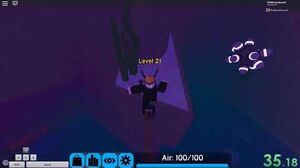 Community content is available under
CC-BY-SA
unless otherwise noted.