Forgotten Tombs is a Normal Map, which could give a prize upon following a hidden route to find a Hidden Treasure called the Minotaur Mask upon first release event from Labyrinth event. It had 3 regular Buttons, and 2 Cyan buttons. This map was removed from the game when the event ended, however when the Christmas update came out, Crazyblox brought back the map, which was unchanged except the removal of the Cyan buttons.
Treasure (Removed When Readded)
After the first locked door, there's a hole which has a Cyan button. The Cyan button unlocks a quicker route to reach the last section of the map. Upon beating that, run and jump into the "E" to claim your event prize.
Trivia
This is the first exclusive event map in Flood Escape 2, which featured in the event called Labyrinth.
This is the first map that has cyan buttons.
Some players wait at the blocked hallway upward, because they think that it will open once the second button is pressed.
The OST is almost the same as Lava Tower's.
Although the Labyrinth event has ended, and the Cyan buttons have been removed, the secret area still exists, along with the "E".
It was once stated by Crazyblox in a livestream that this map would never return, however it returned when the Christmas Update came out.
There is a massive shortcut to press the first button. When you jump on the first box, instead of jumping to get to the second box. jump up to the stone line above you and you can walk on it to get to the button.
Many players consider the first jumps to be hard as you can bang your head on the roof and fall into lava.
Walkhrought and OST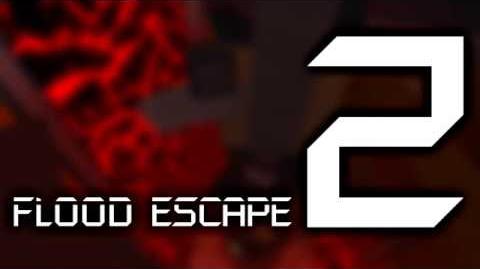 Community content is available under
CC-BY-SA
unless otherwise noted.