Infiltration is a Normal map made by Crazyblox. It has 7 Buttons and 2 Group Buttons.
Design
Infiltration is a long map that ranges in design throughout its gameplay. The first room, an outdoor area, consists of regular grass, with three buttons. Then, players enter a set of wide passageways, with very few jumps. The final room is colorful, with a light that circles, similar to an evacuation light. The map uses modeling and decoration similar to the original Flood Escape.
Trivia
The map's name 'Infiltration' is similar to the some of the names of the maps from the original Flood Escape game.
Before the map was buffed, players could split up in the first area of the map, so that they could get all three buttons very quickly. This was fixed by adding a big piece to block the second button.
The door to the final room closes after the water there has risen and turned into acid. This means that if the server is quick in pressing buttons, the door could close before the water has risen to it, but if the server is slow, the acid could rise completely before the door closes.
The door blocking the 5th button is non-collidable.
Before entering the last room, there is a way to Troll other players by standing on a doorway that the Acid doesn't reach.
A picture of this map exists in Abandoned Facility, hinting that this map is directly after it and the start is, in fact, the end of Abandoned Facility. The picture shows it not flooded, which means it could be after Abandoned Facility. Try and look for yourself when you play Infiltration as you start at a high area and in Abandoned Facility you finish at a high area too. If it's not this way, the order could possibly be the other way around.
Ladder jumping, a trick used in the game that allows players to move up ladders quickly, does not work on the ladder leading to the 3rd button.
There is a massive shortcut to get the sixth button. In the final room, instead of going around the room to get the button, shift-lock sideways and jump from the small platform with trusses to the platform with the sixth button. Using this trick (short-cut) does save a lot of time, but the jump is on the hard side and can be tricky to achieve with out practice. This is made a lot easier using the speed glitch.
Infiltration was the first normal map added to Flood Escape 2.
Walkthrough and OST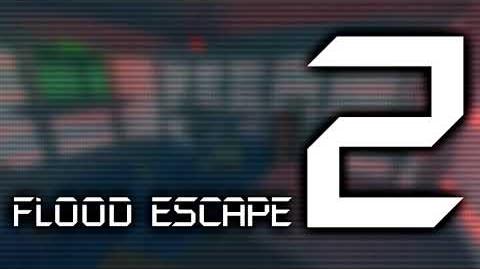 Community content is available under
CC-BY-SA
unless otherwise noted.