Sky Sanctuary is a Normal Map made by Rareheaddress. It has 3 Buttons and 1 Group Button.
Design
All parts of the maps are floating, with Acid underneath. All of the land areas of the map are rocks with grass supporting it, similar to the legacy design. This map also uses some boxes and few trusses. Towards the end, there is a rope bridge, where players have to jump across, landing on each thin board. This often kills players. Overall, the map has an amazing view and a uniquely simple design.
Trivia
This map is usually considered to be one of the harder maps that have been classified as normal, because no matter what there is always at least acid underneath the players. At the end the rope bridge in which players need to be able to use short-jumps is also considered a bit hard for newer players.
It is possible to complete this map without pressing buttons, however this may have been patched in an update.
This map used to have a unique glitch where you can press buttons without previous buttons being pressed. This could result in a <35-second completion of this map, the shortest of all of maps the first gate without pressing the first button. Just go to the edge of it and jump to the other side.
The gate after the 1st button is identical to the gate in Snowy Peaks, apart from the color of it.
This map has the same name as a stage in Sonic The Hedgehog 3.
You can see the edges of the Acid without glitches or shift lock, unlike the rest of the maps.
When you press the 2nd button, the bridge leading to the 3rd button is destroyed. This could end up in being flung to places where you're not supposed to be.
When OST is synced with Wild Savannah, this is the outcome.
Walkthrough and OST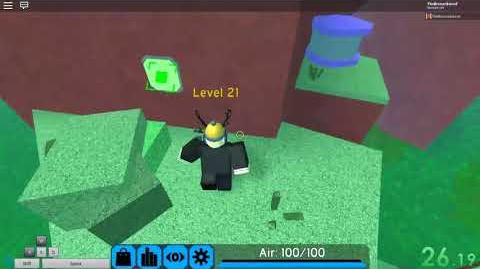 Community content is available under
CC-BY-SA
unless otherwise noted.